Back to My Roots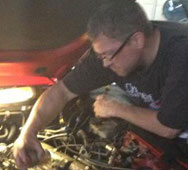 My father had his own VW/Porsche repair shop so it was pretty much a given that I'd have it in my blood.  At age four my father sat me down with a VW Beetle engine and a box of tools and told me to tear it down. From then on, I continued to work with my father from Jr. High through early college. I learned as much as I could, and was blessed with touching cars like the Miura, Dino, Esprit, DB5, which are now only in collections or museums.
  In 1978 there were two cars that really had an effect on me. The first was a black 1978 911 SC Targa. A year later, the first 928 in Wichita Kansas showed up and I almost forgot about that 911 completely.  That was when my love affair with the 928 began.  Learning to drive in a 928 5 speed at the age of 15 was a special treat.  Dad couldn't believe how many times I killed that torque V8.  From that time on I had always wanted a Porsche 928 but as young man owning one had only seemed a dream.
I had no plans to go in to the same business my father did but instead, went for a business administration degree. But I never stopped tinkering with cars, boats or SeaDoo's.  The flames of my childhood passion were rekindled when, In 2006, I purchased an '88 S4 and immediately started to take it apart and fix everything I could. During those first couple years of ownership, my now partner, Roger Need Last Name of 928sRus, and the DFW 928 Crew, spent every weekend and many an evening working on other people's cars. The requests for work started to far exceed what free time we had and Roger and I realized we had the beginnings of a viable business in our hands. That was when 928 Doctors was born–in September of 2008. 
With nearly a lifetime of vehicle repair experience, and nine years specializing in Porsche 928's, I find that my appointment book is always full a month or so ahead of time. I'm having fun doing what I love–ensuring those that own Porsche 928's can continue to enjoy these one-of-a-kind sports cars.